Preparing to Withstand the Loss of Key Players
For the most part, the odds of dying young are fairly remote. The probability that people between the ages of 30 and 60 will live to age 65 ranges from about 85% to 95%, depending on gender and age.1 But have you considered that the odds of one out of any two people dying before 65 are significantly higher? For a two-owner business in which both owners are 45 years old, there's a 20% to 24% chance that one won't make it to 65.2
Furthermore, the chances of suffering a disability are more than double the risk of early death.3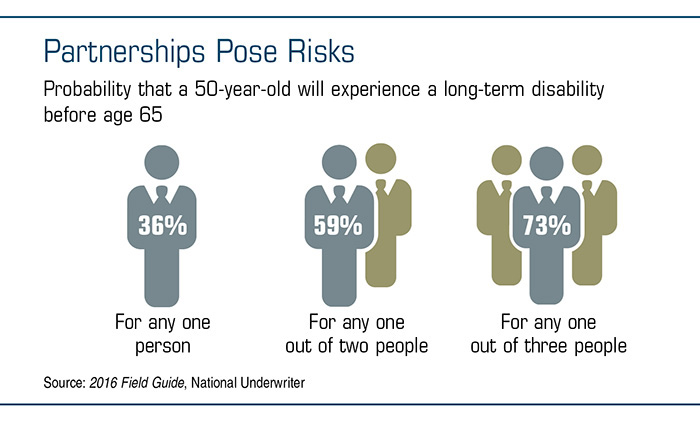 Your company may depend heavily on the knowledge and skills of a few key executives or employees whose disability or premature death could endanger the company's future. In fact, the risk is real enough that you may want to consider a key-person insurance policy.
Key-person life insurance can help offset the financial consequences resulting from the death of someone upon whom the company relies for success. If the insured dies, the policy pays a death benefit, up to the policy limit, that could help the company bridge any financial gaps created by the loss while the survivors decide how to proceed.
The proceeds from key-person disability insurance could help pay the disabled executive's salary in the event that the business needs to hire a temporary replacement, or help defray other costs associated with lost productivity.
A key-person insurance policy is typically purchased by, owned by, and payable to the business, and the premiums are usually not tax deductible. In some cases, a lender may require a business to take out key-person insurance before a business loan can be obtained.
The cost and availability of life insurance depend on factors such as age, health, and the type and amount of insurance purchased. Before implementing a strategy involving life insurance, it would be prudent to make sure that the key employee is insurable.
Equipment can easily be repaired or replaced, but the same cannot be said of people. Protecting your company against the unexpected absence of key players could help keep the doors open if tragedy should strike.